No matter where you are in the supply chain, new customer demands have certainly created unprecedented challenges within the past year. For example...
In manufacturing: Sudden changes in demand have resulted in fluctuating material prices, affecting total operational costs before inventory is even produced.
In warehousing and distribution: As shipping windows diminish, pickers must assemble and verify orders quickly with zero impact on order accuracy rates.
In transportation and logistics: More and more customers today expect real-time tracking of their orders. That means your field teams must remain connected no matter how far they travel.
In retail: Out-of-stocks have led to tremendous financial costs due to lost customers. Today's efficient storefront requires real-time visibility into their stock to better serve customers through multiple channels.
Of course, these changes only scratch the surface of the many challenges gripping today's supply chains. To help make sure your team is able to meet demands without unnecessarily surpassing budgets, ISG Technologies and Zebra invite you to evaluate your mobile strategy in two categories (1) Hardware fit and (2) Solutions to support your strategy:
1.Is it durable enough?

Whether on the field or in the warehouse, your mobile devices are expected to deliver reliable performance under various tough conditions, such as swinging temperatures, high falls, tumbles, and even chemical exposure. Enterprise-grade devices such as Zebra's TC5X mobile computers can deliver intelligent scanning power within an ultra-rugged design made for the outdoors.
2.Can it adapt to new demands?
As proven in the last year, customer demands can change quickly without much warning. Consequently, your technology should be able to follow suit by remaining user-friendly to facilitate onboarding. Longer battery life cycles also aid in this effort by securing more uptime for longer shifts.
3.Will it stay connected to the rest of my team?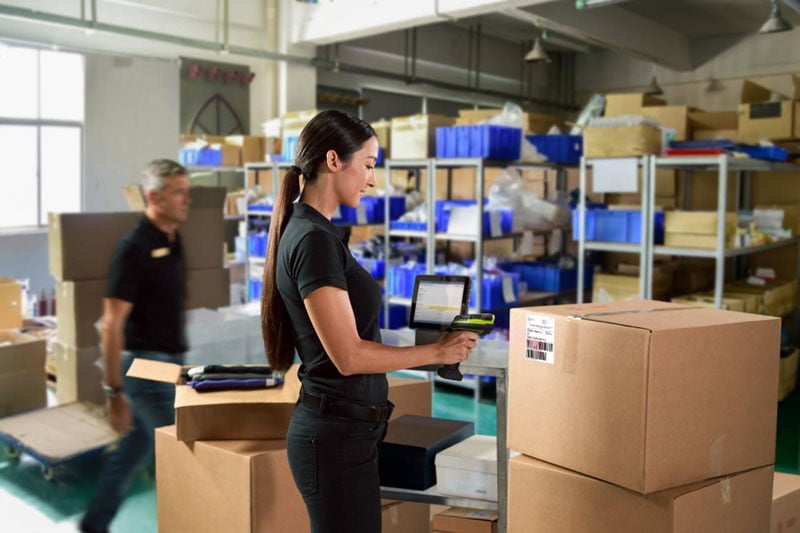 Nearly half of consumers today expect to receive online orders within 2 to 3 days despite most shipping windows remaining at 7 to 9 business days. As field teams move farther and faster, dependable devices should provide multiple connectivity options including potentially push-to-talk and VoIP capabilities to certify teams are reachable. Lastly, dependable OS updates are key considerations as those provided through Android's OS for Enterprise keep your devices updated, so your apps can stay running with minimal disruption no matter where your team goes.
4. Does it value my team and my customers?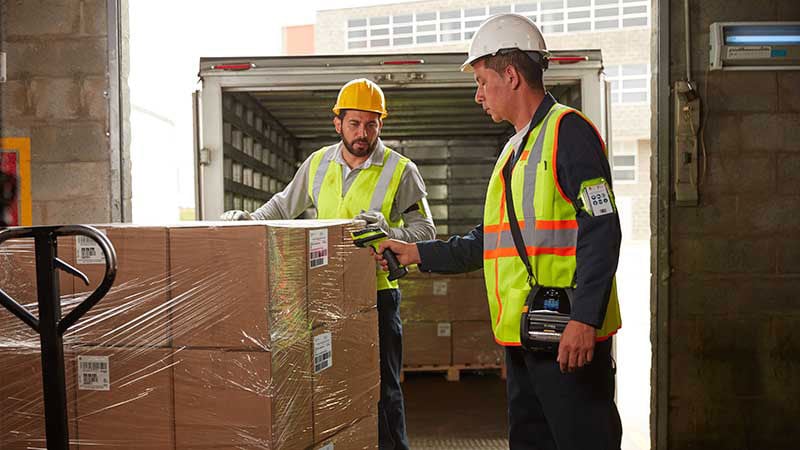 Lastly, as labor turnover rates continue to rise, your mobile technology should remain adaptable and scalable to sustain sudden changes both to your workforce and your customer base.
Zebra's line of enterprise-grade mobile devices deliver on these key considerations, pushing the limits of rugged mobile computing. With a product portfolio offering devices for a range of needs, the TC26, TC5X and TC7X offer trusted durability that survives field services while also including a dependable scanning power, push-to-talk capabilities, and Mobility DNA applications to empower your workforce to accomplish crucial tasks and deliver quality customer service without overburdening them.
Download our fact sheet to understand the benefits of Zebra's rugged mobile device to start creating a mobile solution that best works for you.
SOLUTION AND PRODUCTIVITY CONSIDERATIONS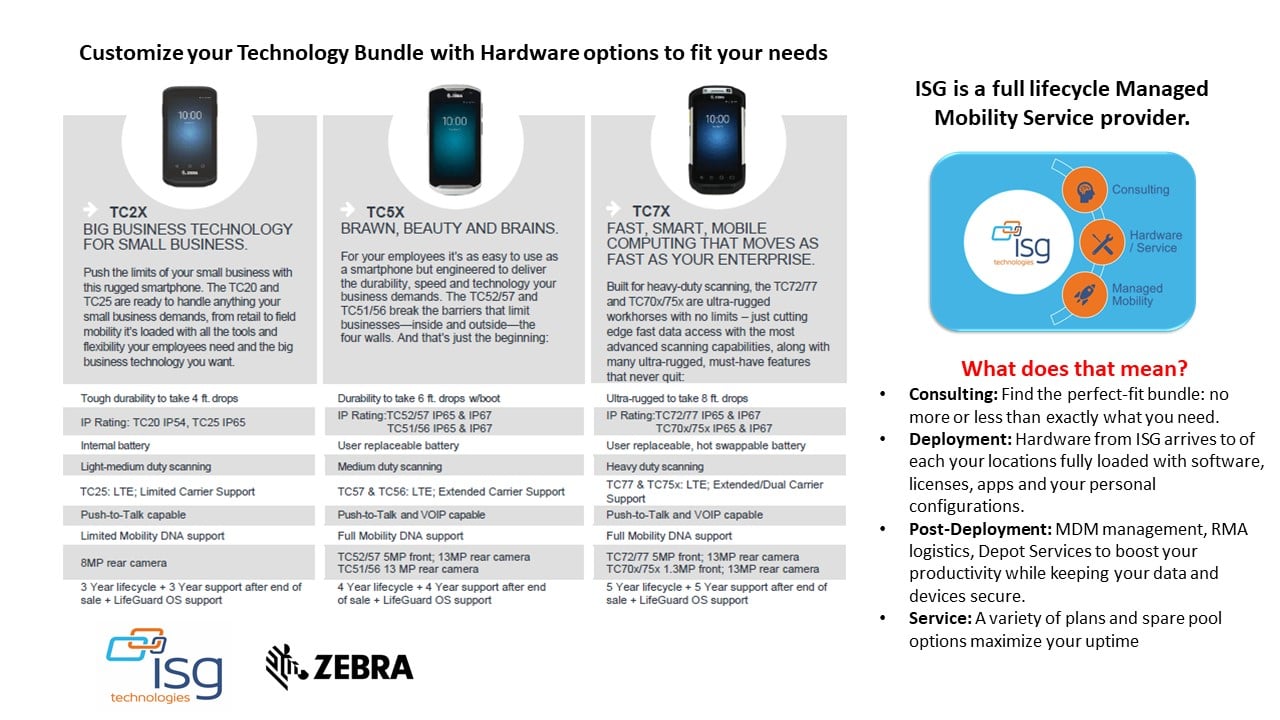 Once you've selected your best fit, ISG Technologies recommends consolidating crucial tasks into your intelligent device. To further simplify the consolidation process, we pair your solution with services that maximize device value, such as:
Consulting services:We help you find the right device for your operation by matching your workflow with enterprise-grade technologies that meet your unique requirements. Then, look at all of the applications on your legacy devices and begin to map out the migration of apps to the latest single platform.
Deployment services: Expect true out of the box functionality with all your software, applications, and configurations in place.
MDM services: Our engineers can manage all aspects of device management ensuring your team has the right apps with the max security.
Managed Services: Our team will manage all assets to and from your team wherever they are and provide next-day replacements to ensure ultimate uptime – from logistics, advanced replacement, device troubleshooting, Help desk and much more.
Service and repair: Our engineers are experts in the Zebra TC line and can get devices back in the field regardless of warranty conditions.
To learn more about Zebra's new TC26 and any other device discussed above, contact our consolidation specialists and see how you can simplify operations with the best.